BSUTH destroys expired drugs, consumables worth N200 million
BSUTH destroys expired drugs, consumables worth N200 million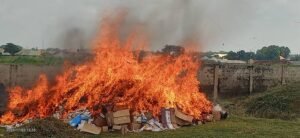 By Bridget Ikyado
The Management of Benue State University Teaching Hospital (BSUTH), Makurdi, on Friday, destroyed expired drugs and medical consumables worth N200 million.
The hospital's Chief Medical Director, Dr Stephen Hwande, told newsmen during the exercise that the drugs were acquired by the hospital but left unused.
"The drugs and consumables were acquired by the hospital, but the same hospital abandoned them to expire in the store.
"Incidentally, same hospital went ahead to privatise it's pharmaceutical department," he said.
He said that he discovered over 100 unclaimed corpses in the hospital's morgue and had written to the Commissioner of Police for permission on what he planned to do.
"Today we are destroying expired drugs and consumables that are worth over N200m.
"I came here two weeks ago and have visited every store.
"During the visit, I discovered drugs worth close to N200 million and consumables inside the store.
"What is surprising is that these drugs were acquired to be used by this hospital, so why abandon them and privatise the hospital pharmaceutical department.
"You can distribute the drugs to the general hospitals or other hospitals in the state for usage.
"You can also send them to the IDP camps or carry out community medical outreach.
"So, there is no reason to allow this quantity of drugs to expire," Hwande said.
Before the coming of Hwande, patients were asked by the hospital to buy even paracetamol and hand groves, amongst other drugs and consumables.
The state Governor, Rev. Fr. Hyacinth Alia, had on October 17 approved Hwande's appointment as the new CMD of the faciltiy.