Gov. Alia tasks Benue indigenes in diaspora to invest in state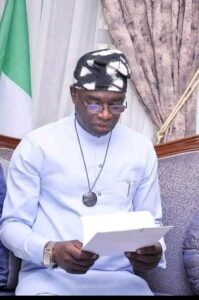 Gov. Alia tasks Benue indigenes in diaspora to invest in state
By Bridget Ikyado
Gov. Hyacinth Alia of Benue has appealed to indigenes of the state in diaspora to invest in the state in order to achieve the desired growth and development.
Speaking at an inaugural party organised by Chief Steven Lawani, a Former Deputy Governor of the State in Makurdi, Alia invited all those interested in investing in the state to approach the government for partnership.
"To the rest of our business partners and lovers of the state, we want to assure you that we will keep to all guidelines so you can bring your business investments to the state.
" We want to assure you that security is paramount in our programme to ensure the safety of all investors.
"We are willing to collaborate and do our best for the growth and economy of the State," he said.
Also, Alia thanked all those who had supported his emergence as governor.
"For all who have supported us in numerous ways, all our sponsors from Europe, America and all who have come in from both near and far, we appreciate the effort you have put in for us.
"We know for a fact that your love for us, is love for the state and we will never take that for granted.
"Whoever wishes to collaborate and partner, our diasporas who are from the state and have no opportunity to come back, please come back home and invest, be free to speak with the government.
"I am inviting you to see what input you can make to our beloved state so as to push forward the economy of the state," the governor said.
" Today reminds us of the number of things we missed yesterday and it enables us to set a pace for tomorrow. We are an open government that has planned to reform.
"We have seen what we can do to improve the loss of the state.
" Whatever capacity you are and whatever form of business you have, please make Benue your home and business center.
"I thank you for the sacrifices you have make for this day. I also appreciate God for what he has done," he said. (NAN)