The Director, Youth Mobilization North Central,facilitates with President -Elect, describes him as accomplished Democrat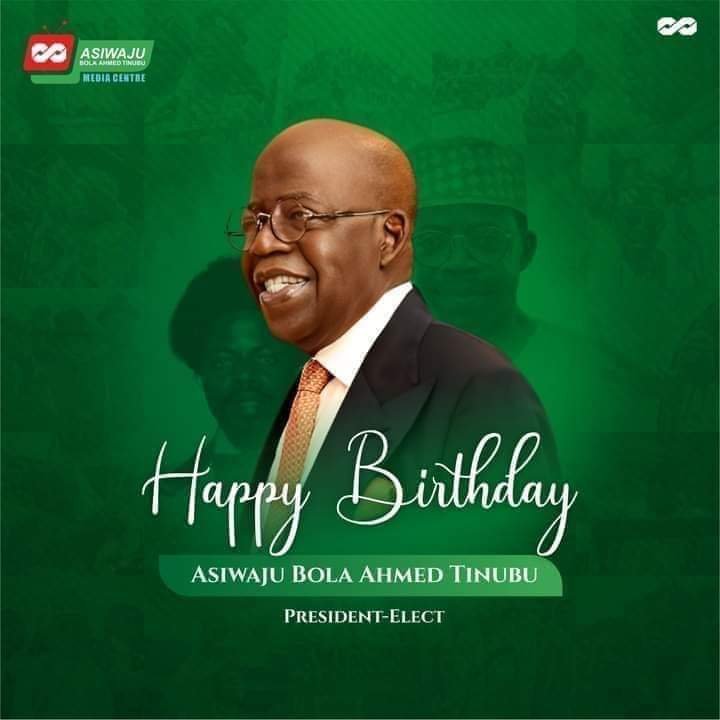 The Director, Youth Mobilization North Central,facilitates with President -Elect, describes him as accomplished Democrat
By Bridget Ikyado
March.29,2023
Hon. Mike Msuaan ,Director, Youth Mobilization North Central Zone Tinubu/Shettima Presidential Campaign Council has joined family, friends, political associates to celebrate the president- elect, His Excellency, Bola Ahmed Tinubu on the occasion of his 71st Birthday Anniversary.
 in a tribute to Mark the birthday of the president elect described him as an accomplished Democrat, a seasoned  and consummate administrator and a political colossus.
In a message of felicitation he signed, read:the North Central Zone youth Mobilization Directorate Felicitates With the President- Elect, Bola Ahmed Tinubu on his 71st Birthday.
He sated that, The president elect, Bola Ahmed Tinubu is an experienced politician whose love for Nigeria spans from the pro-democracy days when he led other like minds to defend democracy and fight for the return to democratic rule from the military junta.
Msuaan maintained that, the experience Bola Ahmed Tinubu, garnered as a campaigner for the return of democracy, former senator and former governor of Lagos, the largest economy in Africa, places him in the best position to lead the country.
His Excellency, Bola Ahmed Tinubu deserves to be celebrated for his contribution to growth of democracy in Nigeria. He put forward a viable and vibrant opposition and marshaled a political coalition that defeated a sitting president.
He insisted that Bola Tinubu is the most prepared Nigerian to govern the country at this time. The youth particular celebrate Tinubu for his ability to identify talents, nurture, give them responsibility and support them to succeed in their endeavors.
Your astuteness and intellectual strength, creativity and sagacity in administration, is no doubt, an asset beneficial to Nigeria  as you prepare to lead the affairs of our dear nation.
We are confident in your message of a "Renewed Hope" and your determination for a progressive change which will no doubt  bring unprecedented development and transformation in the country.
While wishing the president, a happy birthday anniversary, he prayed for good heath, strength and wisdom for the president – Elect to lead a progressive change in the country.