Benue Gov eulogises late Priest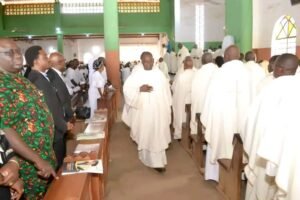 Benue Gov eulogises late Priest
By Bridget Ikyado
The Executive Governor of Benue State, His Excellency, Rev Fr Dr Hyacinth Alia, has described Late Fr. Joseph Agbecha, a priest of the Catholic Diocese of Gboko as a clergy who lived a simple,liberal, easygoing and accommodating life.
Governor Alia spoke at the requiem mass for the final internment of Late Fr Agbecha.
According to the Governor Late Fr Agbecha was a great loss to his family friends and church.
He  enjoined all to pray for the repose of the soul of Rev. Fr. Joseph Agbecha.
He further extended his  condolences to the deceased family, urging them never to loose faith but to take solace in God.
The requiem mass for late Fr. Joseph Agbecha was presided over by the Bishop of the Catholic Diocese of Gboko, Most Rev. William Avenya urged Christians to prepare themselves at all times as anyone could be called at anytime.