Sports Minister Hails Athletes for Clinching Medals at First Africans Paragames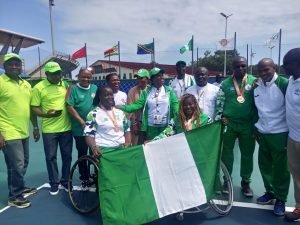 Sports Minister Hails Athletes for Clinching Medals  at First Africans Paragames
By Stephen Merit, Abuja-Nigeria
As the 1st African Para Games tagged
Accra 2023, sets to round off in Ghana, the Honourable Minister of Sports Development, Senator John Owan Enoh has congratulated Team Nigeria for again, making the nation proud by clinching two medals in the women's wheel chair tennis, singles and doubles categories.
Senator Owan Enoh, in his message to the athletes and officials, stated thàt
Nigeria was able to join 20 other countries to compete for laurels at the Games despite dwindling resources, demonstrating the commitment of President Asiwaju Bola Ahmed Tinubu-led Administration to poverty alleviation and empowerment of people living with disabilities through sports.
He explained that the participation of Team Nigeria at the Competition which is the first of its kind, held after over three and half decades of the establishment of the African Sports Confederation of the Disabled/African Paralympic Committee (AfPC), will in addition, afford the nation's Para Athletes an opportunity to experience a
Multi-Para Sporting event on the African Continent.
The Minister informed that the Competition, with about 6000 participants, will, among others, serve as a Catalyst for further development and promotion of Para-Sports in Africa
He reiterated the commitment of the present administration's resolve to ensuring the creation of an enabling environment for our athletes and in particular, athletes living with disabilities in the country, not only to afford them the opportunity to showcase their sporting talents across the globe but also to raise the nation's flag high through podium finishes at all international competitions.
The Minister noted that although, Team Nigeria had won only two medals so far at the ongoing competition, Nigerians will ever remain grateful to them for their patriotism, especially considering their excellent performances in other international competitions in the near past.
Senator Owan Enoh added that as the Minister of Sports Development, he has
passionate support for Para-Sports, and thus will not live any stone unturned in ensuring that under his watch, the existing medium already created and dedicated to coordinate, promote and manage the development of Para – Sports in Nigeria is strengthened for better performance.
This, he said, will make it possible to utilize Para-Sports as a veritable tool for accelerated social integration and inclusion of persons living with disabilities, in line with the policy thrust of the present administration.
The Minister, therefore, called on relevant stakeholders in the industry as well as sports loving Nigerians to lend their support, especially towards the development of Para-Sports in the country with a view to also giving the athletes, a sense of belonging
Team Nigeria is expected back from the 10-day event on Wednesday 13, September, 2023.