Osinbajo urges religious leaders to drive the faithful towards truth, justice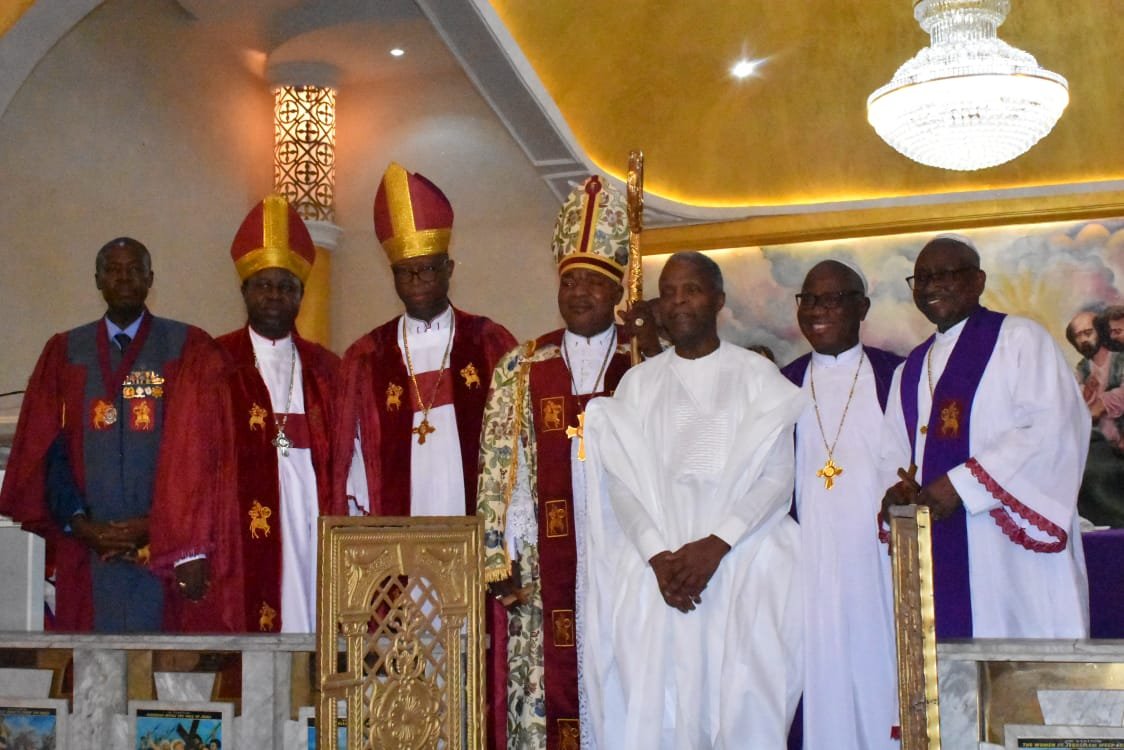 By Bridget Tyam
Abuja March 5, 2023
Vice-President Yemi Osinbajo on Sunday in Abuja tasked churches and religious leaders to drive the faithful towards the pursuit of truth and justice.
Osinbajo gave the charge at the enthronement of Most Rev. Michael Akinwale as the Archbishop of Abuja Unity Cathedral, Methodist Church of Nigeria.
AVM Kayode Beckley was also presented as Diocesan and Archdiocesan Lay President of the church at the occasion.
According to Osinbajo, the Church is a place to deliver people from fear and oppression and eternal damnation; a place of succour, joy and encouragement.
"We must continue to build churches and places of worship knowing that everywhere we plant a church; we establish the light and power of the gospel of the love of Jesus Christ.
"The light and power is the answer to darkness, pain and misery of our world.
"The forces of evil and hate are more virulent than ever; the battle between light and darkness is more intense than ever, but the church will prevail,'' he stressed.
The vice-president urged Nigerians and especially the political class to unite and ensure that the right things were done always.
"We need to unite. We call on politicians, religious and traditional leaders and all in authority to do the right thing,'' Osinbajo said.
He commended the Church for aggressively engaging in evangelism, which, he said, had great impact on the society and on the nation.
In his remarks, the Prelate, Methodist Church of Nigeria, His Eminence Oliver Ali-Aba said the Church was poised to move on through fervent prayers.
"The Church wants to carry on as Christ has charged on the great commission; to spread the gospel and to do well.
"We pray for Nigeria's unity, peace and development; we pray for good leaders from the Church to the nation at all levels,'' he said.
In his response, Most Rev. Akinwale said he was on a divine mission, which was to aggressively spread the goodness of Christ.
"I will also passionately and effectively drive membership of the church; we need God-fearing men and woman to know and serve God which would also help to deliver our nation,'' he said.
He added that Nigeria needed leaders with the fear of God to get things right.
"Nigeria is a divine project and nothing can disintegrate it; it is our mandate to ensure unity and peace is promoted in the nation,'' he stressed.
Also speaking after his presentation as Lay president, Sir Beckley said his task was to support the ministers to grow evangelism.
"The business of the Church is all about salvation and if the congregations get this, they have gotten all,'' he said.
Sir Beckley also appealed to the laity to support the ministers to achieve their missions of the great commission.